Come help us on playa Preciosa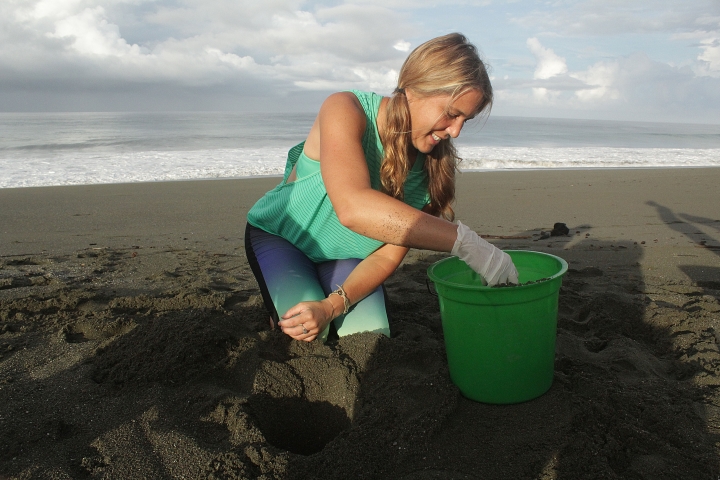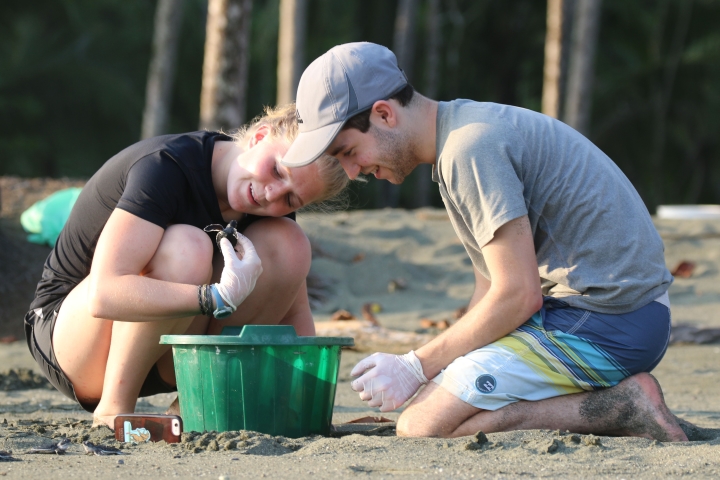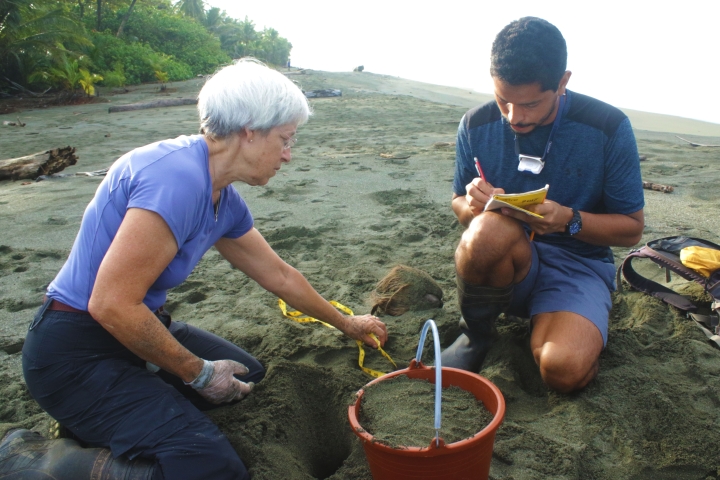 Come with us and join the monitoring team! Conduct morning and night patrols where we record biological factors, help to keep record of data and help the hatchlings arriving to the water. You will live in our camp near to the beach surrounded by incredible flora and fauna. It will be an opportunity to improve your knowledge, explore the biodiversity of this area and work with the local people in our educational program.
Tortugas Preciosas de Osa is a nonprofit program of IDEHS (ONG) dedicated to the conservation of sea turtles in the Osa Peninsula.
Playa Preciosa is a key nesting ground for three endangered species of sea turtle found worldwide. Our program is dedicated to protect these species. We achieve this goal by integrating conservation, research and education.
Many factors contribute to sea turtle population declines including pollution, poaching, urban development and climate change. These factors are responsible for the loss of nesting grounds or low hatchling survival rate leading sea turtles to the brink of extinction.
Volunteers are key stakeholders to evaluate, monitor, preserve, and conserve sea turtles and their nesting grounds; helping sea turtles first hand in the Osa Peninsular
We monitor and protect nesting turtles on 4 km of beach on the Golfo Dulce of the Osa Peninsula:
We gather information about the nesting activity, predation rates and hatchling success of the three species of turtles that nest on this beach.
Our presence deters poachers from stealing eggs.
We give presentations and courses to different members of the community and groups about sea turtle conservation.
As an volunteer, you will part of morning and night beach patrol with the help of staff and other field assistants.
During these patrols, you will:
Take biometric measurements of nesting mother turtles.
Assist in the application of identification tags.
Record data on turtle tracks and nest location
Perform nest excavations when needed and relocate vulnerable nests to our hatchery or safer sectors on the beach
Evaluate hatching success rates.
Monitor nesting sites for hatchlings and predators.
Carry out nest protection techniques and assessment of potential risk factors.
Mark and nest protection with bamboo net, method to stop predation by dogs to nest
After patrols, you will:
Enter and check data on our data base.*
Ensure equipment is cleaned and ready for the next patrol.
Monitor the hatchery for hatchlings and perform temperature checks for our hatchery of over 200 nests.
Other tasks include:
Training patrol leaders for a partner organization.
Giving presentations to various groups and local schools, as well as the eco-tourists from local resorts.
You will live in Waleska's Place, a nice hostel on the beach. There is a bunglaow whith 2 shared rooms, 4 beds, a bathroom and a kitchen.
In the heart of the Osa Peninsula. This region, located at the southwestern end, is one of the most isolated and wild in the country. The tropical forest meets the sea and is often presented as the last wild border of Costa Rica. Most of the Peninsula is protected. It is home to more than 50% of Costa Rica's animal and plant species, representing 2.5% of the world's biodiversity! It has been presented by National Geographic like « The most intense biologically place on earth ».
Playa Platanares Preciosa, is a 7 km long beach often deserted and is perfect for swimming.
Playa Preciosa is at 6 km from Puerto Jimenez. This typical market town is only 6 km from Waleska'Place. It has many restaurants, bars, shops … but also a post office, banks, ATMs, a clinic, a gas station, a police station, an airport
Your activities with the turtle's project, leaves plenty of time to explore the Osa Peninsula and experience many of the activities it has to offer.
Your accomodation is just in front of the beach, so you can enjoy this beautiful area. You will have the opportunity to enjoy our mangroves at the end of Playa Preciosa by kayak.
Playa Preciosa is located in a protected area that connects Corcovado National Park and Reserva Golfo Dulce. This exceptional situation makes it possible to practice many activities of discovery on the spot or in the immediate vicinity.
You can participate in a boat tour in the Golfo Dulce, where you can see dolphins and humpback whales depending on the season. Horse tour along the coast and if you want to leave the sea through primary forest, we can recommend trails that are close to the area.
Playa Matapalo is only 19 kilometers from Puerto Jimenez where you can see the waterfalls and see the four primate species of Costa Rica.
Minimum age: 18 years old
Language skills: English or Spanish.
Other skills: motivated, positive, friendly …
The nearest international airport is Juan Santamaria International Airport (SJO) in San Jose.
To come from San Jose to Puerto Jimenez ….
By car. There is 379 km. Journey time: around 6h30.
By bus. The Transportes Grupo Blanco Company operates the San Jose – Puerto Jimenez line. Booking and information on the Internet (www.grupoblanco.cr). Opening hours: 8:00 and 12:00. Journey time: between 7 and 8 hours. Rates: 7,500 colones.
By plane. The airline Sansa offers several daily flights between the San Jose International Airport and Puerto Jimenez. Booking on the Internet (www.flysansa.com). Journey time: 50 minutes. Rates: between 80 and 160 $ the flight.
Travel insurance is highly recommended.
There are no compulsory vaccinations to come to Costa Rica. However, we advise you to consult a doctor.
Rate for a week (min. Duration): $ 200
Down payment: 20 %
100% of the sums received are for the program.
Services included in the rate:

t

raining, a

ccommodation

Not included in the rate: vi

sa, airline tickets, airport transfer, travel insurance, meals are not included in the program fee.